We are currently adding to the bibliographical research of Newcomb artisans. Check back in as we add to this page.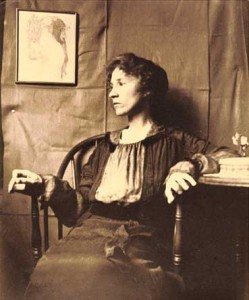 Sadie Irvine (Sarah Agnes Estelle Irvine)
July 21, 1885 - September 4, 1970
Born in New Orleans, Sadie grew up at 1218 Valmont Street with her parents and one sibling. In the 1900 census, her father's occupation was listed as "Letter carrier", but appeared to retire by 1930. Sadie's occupation from 1910 – 1930 was always listed as "Artist – College." She began her studies, entering college as a Newcomb College freshman in 1902, graduated in 1906 and continued with her graduate studies immediately after, graduating in 1908. She is numbered among the Pottery's Art Craftsman from 1908-1929 when she became a paid employee of the College until her retirement in 1952. After her retirement, she taught ceramics at the Academy of the Sacred Heart in 1967. During her career, she won numerous awards and received travel and study scholarships, including being exhibited in international expositions. She is buried in the New Orleans Masonic Cemetery along with her parents.
Newcomb Art Museum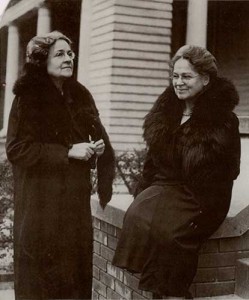 Emilie de Hoa LeBlanc
June 17, 1870 - November 24, 1941
Among the first members of the pottery decoration class, Emilie LeBlanc was awarded a Diploma in Normal Art in 1897. Miss LeBlanc continued in the Art program enrolled as a graduate art student from 1897-1899. The Tulane catalogue and Jambalaya listed her as a post-graduate from 1900-1902 and a pottery worker from 1901-1905. The Board of Administrators of Tulane University retroactively awarded a Bachelor of Design to her on June 8, 1921. Her younger sister, Marie de Hoa LeBlanc was also a Newcomb artisan. After both of her parents' deaths in the 1910's, the sisters, Emilie and Marie continued to live at the home. In the 1920 census, Emilie's occupation is listed as "Artist, high school". By 1930, the sisters were living on the 3200 block of Coliseum Street and her occupation was listed as "Art instructor, Public School". By 1940, the sisters lived at 4225 Pitt Street and she was still regarded as a teacher. Emilie and Marie were constant companions and never married. They traveled in their summers, always with an introduction from the Archbishop of New Orleans.
Newcomb Art Museum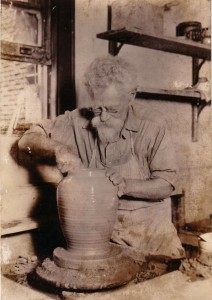 Joseph Fortune Meyer
1848-1931
Joseph Meyer was a professional potter in charge of throwing the pieces for a thirty-year period from 1896-1927. His mark is found on more pottery than any other artisan in the group. Between 1896 to 1904, Meyer's eyesight began to fail, so assistants or the professional ceramists helped him. He is noted as helping the Woodwards at the New Orleans Art Pottery and helped to build the kilns when Newcomb set up its pottery. He was a much-admired figure on the campus and the community during his time at Newcomb. ­­
Newcomb Art Museum

Mary Given Sheerer
January 1865 - 1954
Born in Covington, Kentucky, Mary's family moved to New Orleans between 1865-1870. Her father, a "Wholesale Grocer" originally listed as a wealthy man, later had to surrender his goods at an auction to pay his creditors. The succession of his estate opened on January 16, 1883, and Mrs. Sheerer and her daughters moved back to Covington in 1886. Between 1886 and 1894, Mary attended the Cincinnati School of Design and at the Art Students' League of New York City. In 1894, she moved back to New Orleans and began teaching at Newcomb. Never a homeowner, Mary lived close to campus in other people's homes, campus housing, or sharing a residence with two other faculty members, later creating a "co-operative house" lifestyle in many different locations until her retirement in 1931. In 1932 she moved to Cincinnati and lived with her younger sister, Nan at 2116 Auburn Avenue, No. 1. They were listed at that address until Nan, also a retired teacher, died in 1942. Mary's later address is unknown, but assumed to be in the Cincinnati area. She died at age 89 in 1954.
Newcomb Art Museum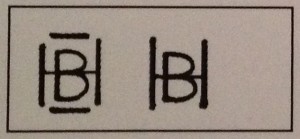 Henrietta Davidson Bailey
February 27, 1874 - November 10, 1950
Born in New Orleans and raised in St. Bernard Parish, not much is known about her early upbringing until the 1930 census listed her living at 3315 DeSoto Street with her widowed sister-in-law, three nephews and one boarder. Her occupation was listed as "Teacher – Young Ladies Seminary" (perceived to be the Newcomb College at that time).
She enrolled in Newcomb College in 1901 as a Normal Art student and graduated in 1903, continuing into graduate school from 1903-1905. In 1905 she accepted a summer scholarship to study with Arthur Wesley Dow in Ipswich, Massachusetts. From 1904-1909 she was listed in the University yearbook as a potter/independent designer and was hired as an Art Craftsman, working until 1926. She retired from the Newcomb Art School in 1938.
Newcomb Art Museum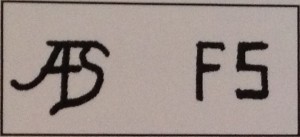 Anna Frances Connor Simpson
August 14, 1880 - June 26, 1930
Born in New Orleans, Anna Frances "Fanny" lived at 1547 Camp Street with her parents, four other children and her uncle until the early 1900s. According to the 1910 census, the family then resided with 1526 Washington Avenue with more family members. The 1915-1918 New Orleans City Directory listed only her mother and herself living at 1424 Amelia Street and her occupation was listed as "Decorator." The 1920 and 1930 censuses list her mother (now widowed) and herself as the only occupants of 6314 Freret Street and her occupation was listed as "Pottery Decorator, College."
Fanny received a Diploma in Art in 1906 from the Newcomb College and continued on as a graduate student, graduating in 1908. Immediately after, she joined the Pottery enterprise from 1908-1923 and 1924-1929, dying a year later in 1930.
Newcomb Art Museum
Paul Ernest Cox
1897-1968
Paul Cox is known as the first professionally trained ceramist employed by Newcomb College. He perfected the matte glaze used after 1910 and altered the techniques, designed and built kilns and "modernized the plant." In 1918 when the new Art School building was erected, he designed the kilns and equipment. After he left Newcomb in 1918, he traveled and worked at various businesses, including Pittsburgh and later accepting a teaching position at Iowa State College where he was in charge of the Department of Ceramic Engineering. He worked there for over two decades, returning to New Orleans in 1939 and setting up a pottery business in Harahan, but it was short lived. He later retired to Baton Rouge, and died in 1968.
Newcomb Art Museum